Fire and drum show - Aliatrix joins forces with Groove Army
Our collaboration with the amazing Groove Army started in 2019 and since then we have already committed awesome shows all over the country. Read the article about the beginnings of our journey together.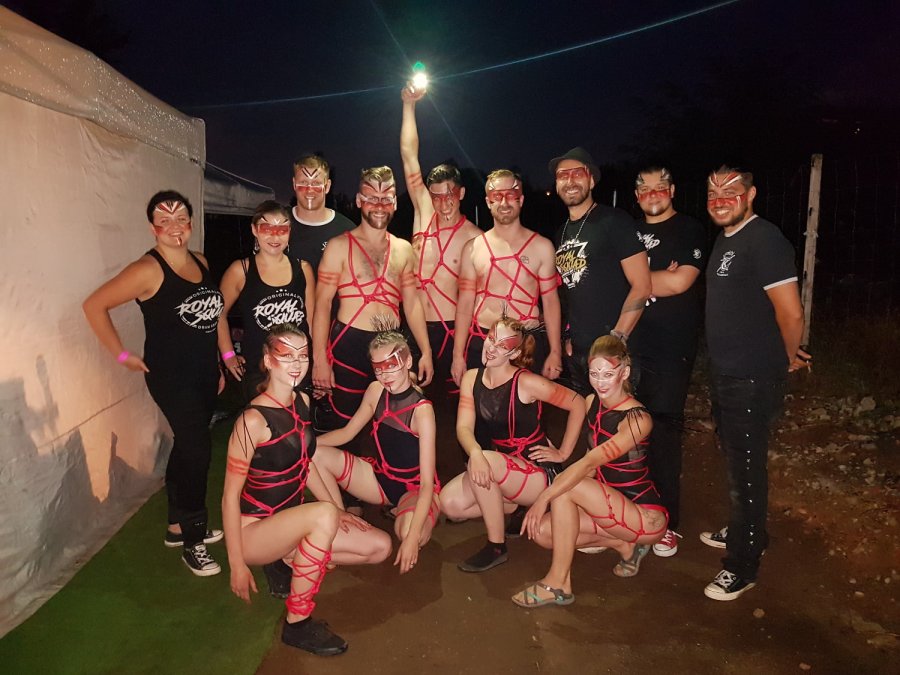 The Corona crisis is a test and it troubled most artists. But there's an upside! We started cooperating with Groove Army and we'll be bringing you more innovative performances in which we're combining drumming and fire show.
We premiered our collaborative work at the Roztoč International Arts Festival. Since artists from all over the world came to Prague, we prepared a technically very demanding fire drum show, in which a total of 13 artists shared the stage - 7 members of the Aliatrix fire show and 6 exclusive drummers from the Groove Army under the baton of their leader - Tokhi.
Challenging choreography as the basis of the whole

fire - drum show
"From my point of view it was one of the most difficult group choreographies I've learned in my 10-year career," it was a blast.
Co-owner of Aliatrix - Michal Halačka.
Creation of the choreography was quite unconventional. Our creative director Tereza Adamusová wanted everyone to contribute so some of the combinations came directly from the artists you could see on stage. Creating the whole concept together was incredibly motivating, and the vision of the first big performance in a long time created a unique atmosphere that was building up until the opening night.
The unconventional, provocative and daring costumes
A tattoo artist, photographer and shibari lover Lucka Hanušová took charge of the costumes. They were meant to be provocative, unchained and wild and support the overall atmosphere of the connection between the fire and drum show. With Bája, they put together costumes for 7 performers that would fit in one small bag. All they had to do was to buy 300 meters of rope and artistically knot all the performers.
Emphasis on emotions, expressions and conveying a chilling atmosphere to the audience
The main task from Terezka was simple.: "Enjoy it, do your maximum and make time on the whole festival stand still for seven minutes." If we've succeeded in her last instruction is for the audience to judge, but we delivered the first two points.
A drum show full of fire

- a unique atmosphere
When the background music started, the drummers vibrated their drums for the first time and the performers began to arrive on stage, a mysterious atmosphere began to flow through the festival grounds and lasted throughout the performance.
Groove Army has a tremendous energy and their expression of rhythms with a large number of creative instruments is unique.
Big plans and a desire to create an innovative visual show
The premiere of the whole show was actually a test. We wanted to see if we would enjoy the connection between Aliatrix and Groove Army. It worked!
We are in the midst of preparing a new project in which we are trying to use the strengths of both subjects and create a direct connection in a visual show that will bring new ideas, unconventional technologies and the best from the artists once again.
What can we reveal from the preparations?
Not much, actually. First of all, we're in the middle of creating the concept, secondly, we still have to develop some of the props, and finally, we want to keep you in suspense. Anyway, you can look forward to light constructions, SFX effects and no Aliatrix or Groove Army. We're going to be one team that will interact throughout the show.
We are a team
We would like to thank you all for the amazing applause you gave us at Roztoč during our premiere and for the support you've given us. Everything we do is for our audience - for you. We want to put a smile on your face. We want our performance to make you forget about your worries and make you feel happy. In every show, you are like another performer and a part of the atmosphere.
We are all a community and together we can achieve beautiful things.
Thank you!
P.S. Join us on our social media or ask for a quotation directly.
Do you like the article? Share it with those around you
About the author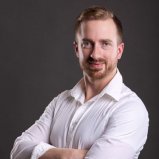 Michal Halačka
He has been in the world of show business since 2008. He has performed in more than 700 shows on three continents. During his career, he has become the vice-champion of the Czech Republic in fire performance and represented the Czech Republic in the International Juggling Association. Since 2015 he has been an actor at the Hybernia Theater. He is also a moderator who has been through several Czech radio stations and is currently a freelance. He is co-owner of Aliatrix, where he is not only the CEO but also co-creator of some big projects.
---